Not all flashlights are made to go with a set of car keys. However, having a flashlight with your car keys could be very practical but also maybe save your life.
I give you my 11 essential qualities to make a lamp interesting to hang on your car keys.
01 – A MAXIMUM LENGTH OF 7 CM.
Clearly, having a light on your car keychain means it shouldn't take up too much space. Your keychain should still be able to go where you normally store it. The goal is to have a lamp attached to your keys, not the other way around. The length is a very personal thing to consider here, as it allows you to store your lamp in your pants pocket or in your bag without it getting in the way. If you have larger pockets then a larger lamp might also do the trick.
02 – ACCEPTING AN AAA OR RECHARGEABLE BATTERY.
Why an AAA battery? because we find it everywhere and there are rechargeable ones. Many flashlights that are found here and there on the internet have special batteries (CR123a, 18650, 14500, etc …) often these batteries have a good power to power up your lamp for several hours. The big problem with these batteries is that they are not found everywhere and require their own charger. Personally, I have all my lamps that work either with AA or with AAA, or are directly rechargeable. You can do it differently. In this case, have enough batteries in reserve to run them.
03 – THE LOOP TO PASS THE RING OF THE KEYCHAIN MUST BE AN INTEGRAL PART OF THE DESIGN OF THE LAMP.
When I put a lamp with my keys that will be in my pocket later, I need all the elements to fit together well. So, I put the ring of the keychain directly into the loop of the lamp designed for that.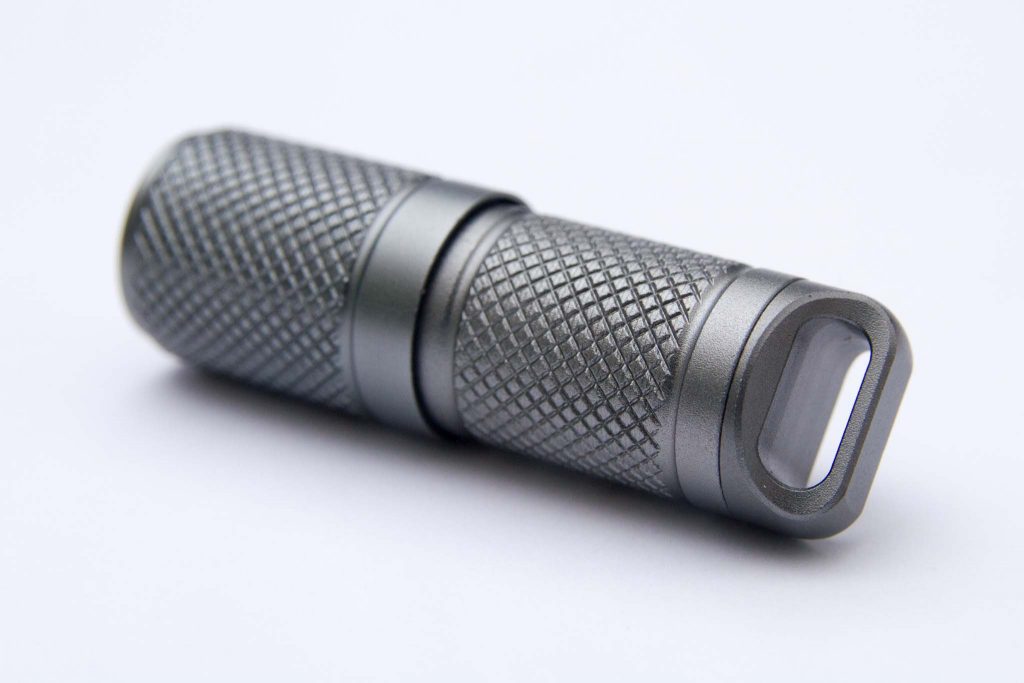 Like that, if I have to pull hard on the keychain, I'm sure everything will stay together. Often the lamps are delivered with small rings of key-rings. I avoid using them if my keychain is intended to be in my pocket because of the pressure that will be exerted on this small ring, it has chances to deform. In the long run, the ring will no longer fulfill its role and when you pull on your keychain, your lamp could, one day, detach from it.
In addition, the finesse of these small rings, that with pressure, can get caught in the fibers of your pants and twist even more or stay stuck.
But if you store your set of car keys in your bag or jacket then you can use a key ring, because the pressure on your set will be less than in your pants pocket.
04 – BE WATERPROOF.
It is essential that a lamp is waterproof. It would be useless to you, if at the first contact with water, it would stop working. We often think that waterproofing only concerns being under the rain or dropping the lamp in a puddle, but in our pocket, it will also be subjected to the water vapor emitted by our skin. Without a good seal, a lamp could oxidize just by sitting in your pocket doing nothing.
Moreover, if you break down in the middle of the night and need light, it would be a shame if your lamp broke down just because of the rain
05 – BE RESISTANT TO SHOCK AND PRESSURE.
The same goes for the ring that attaches it to the key ring. If the lamp cannot withstand the pressure, it will break before you can use it. The most sensitive part is the part that attaches it to the key ring. This is the part that will have to withstand the twisting of the keychain in your pocket. If this part is made of fragile plastic, it will only last a few months in a jeans pocket. In this case, it will have to be either all metal, or in a very hard plastic but with a metal loop crimped in the plastic to attach it to the keychain.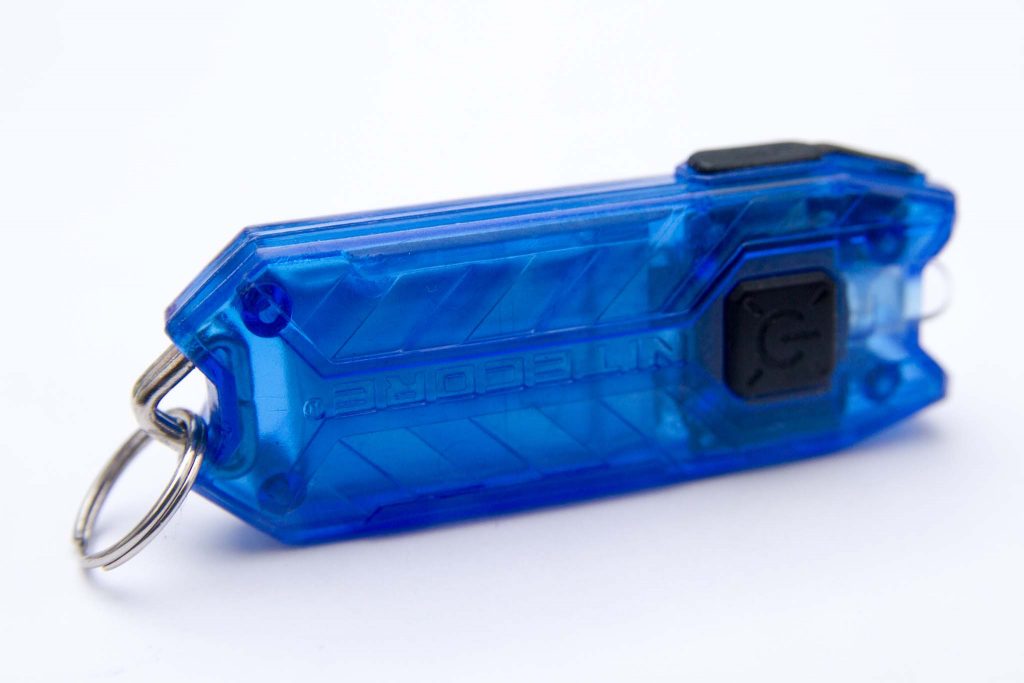 In addition, a sturdy lamp could survive an accident and be operational to illuminate you or indicate your position for rescue.
06 – HAVE ENOUGH LIGHTING POWER TO SEE AT LEAST 30 METERS.
Moving around with a lamp that barely shines at your feet is no fun. Seeing well 10 meters or more ahead is much more comfortable. There are all sorts of output levels but try to be above 50 lumens. A 120 lumen output is good if you want to see quite far in an open area. It could also be very useful if you have to climb out of a ditch that you just fell into with your car.
07 – HAVE SEVERAL OUTPUT POWERS.
Having two or three power outputs is good for two reasons, glare and range. If you have to read a map, or change a wheel in the middle of the night, when your eyes are used to the dark, 130 or 300 lumens of power in the face will be very unpleasant. Having lower wattages will be much more interesting in these cases. In addition, if you use the lamp at low power most of the time, the batteries will discharge less quickly.
08 – HAVE A "BEACON" OR "SOS" MODE.
The "beacon" mode emits a flash every 2 or 3 seconds. The SOS mode, as its name indicates, makes the SOS in morse code. The idea is to have a way to report your position for several hours in case of accident especially if you are stuck in the car or unable to move. Because the lamp is not permanently on, this mode can last a whole night. It is not uncommon to have small lamps capable of holding 20 hours in "beacon" mode and a little less in SOS. This mode is for me essential for a lamp intended for car keys, especially if you often drive at night.
09 – A GOOD AUTONOMY.
For me a good autonomy is 5 or 6 hours at normal power. As a general rule, a small lamp hardly exceeds 1h30 at maximum power (120/130 Lumens). On the other hand with a lower power this autonomy is longer. Hence the need to have several output powers.
10 – TURN ON WITH A BUTTON.
Why a button? The reason is simple. It can be turned on with one hand. A light that goes with you in your car should be useful in case of an accident. If you have an injured hand and need both hands to turn on your only signalling device, your light will be useless to you in the worst of times. Of course, lights that switch on by turning the front can also be switched on with one hand, but as time goes by, this type of light becomes more and more difficult to turn. It will be even more difficult if you have to turn it on with a sore hand or if your fingers are numb.
11 – DO NOT TEND TO SWITCH ON IN THE POCKET OR IN THE BAG.
It is annoying to need your lamp and that it is totally discharged because it lit itself in your pocket or in your bag. Fortunately, this is not systematic, but it can still happen. Button lamps are the most sensitive to this problem. The pressure on a bunch of keys is enough to press the button of your lamp and turn it on. Fortunately, some manufacturers have foreseen this problem by putting a "lock" mode that prevents the lamp from turning on without doing any particular manipulation, or having to make a double click to activate the lamp; this reduces the risk that it turns on by itself. I recommend this type of lamp.
12 – BE EASY TO USE.
"It's obvious" you may say. Yes, but you have to think that in case of an accident, you could be stunned and not have a clear idea of what to do to turn on your lamp. I advise you to train yourself to turn on your lamp and to put itself in a particular mode without looking at it and in all possible positions. The goal is to train your muscular memory, because in case of shock to the head, your body could perhaps remember the operation of your lamp.
These qualities also form my scoring criterias of flashlights, i will try on this blog, which spend their life hanging on a key ring or in a pocket.
Don't Miss Out!
Subscribe to the newsletter to get all new posts. (You will receive max. two emails a week)
Your information is confidential.