Little brother of "Skeleton" from Leatherman, Style CS is a multi-tool very design. If you need a pair of scissors, a small knife or a bottle opener on you then eye on the side of Style CS.
Click on the button below to buy it.
We can say that but this Style CS really style. If you like stylish objects then this small multi-tool will suit you perfectly.
SMALL, ROBUST WITH AN IRREPROACHABLE CONSTRUCTION.
Like all Leatherman, the CS Style exudes strength. It is 420HC stainless steel. Very well built. The colored parts (black in the photo) are fiberglass.
He is really small. Its length is 75 mm for 20 mm wide and 11 mm thick. His weight on the scale is 41g. It will go beyond some small Jeans pockets.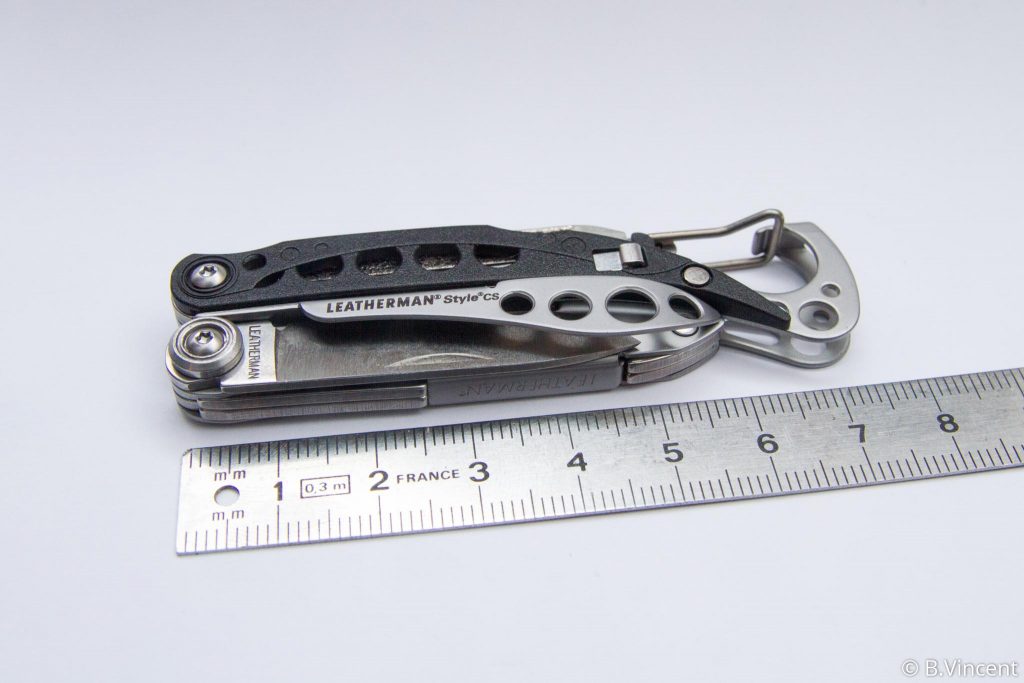 And he is guaranteed 25 years! In short, that's good.
WHAT ARE ITS TOOLS?
Despite its size, the CS Style contains 7 functions. He has a knife, a nail file, a flat screwdriver, a bottle opener, a pair of scissors, a tweezers. It also has a carabiner to attach to a key ring.
The scissors have a size more than adequate. Ideal for cutting small wire, nylon wire or ropes and straps.
IS IT EASY TO USE?
The tools are very easy to open and accessible when the scissors are closed. Despite everything the tweezers will require the use of your nails to get out of his home.
WHAT DOES IT MISS?
Actually for me, he misses all the other tools of Squirt PS4 or Micra. It certainly has style but for me it lacks too much tool to be interesting in EDC.
CONCLUSION.
The Leatherman Style CS is small and very well built, has 7 functions and a 25 year warranty. It's a great companion for camping or any other activity where a good pair of scissors is welcome. Still, I prefer the Squirt PS4 for its greater versatility.
Click on the button below to buy it.
PROS:
CONS:

Reduced size: 74x20x11 mm.
Lightweight: 41g.
7 functions: knife, nail file, flat screwdriver, bottle opener, pair of scissors, tweezers, carabiner.
420 HC stainless steel tools.
Steel handle and fiberglass.
His style !
Don't Miss Out!
Subscribe to the newsletter to get all new posts. (You will receive max. two emails a week)
Your information is confidential.